Oh my. Lords, and Ladies, and butlers, oh my. Do you love this as much as I do???? Ben and I caught up with season three Monday night. Oh. my. Can't wait for next week!
Love all things British --Jane Austen, BBC's 5 hour Pride and Prejudice (who can beat Colin Firth as Mr. Darcy, really?), Downton Abbey, Lark Rise to Candleford, Cranford (two other great British series), Beatrix Potter. . .
I watched this movie several years ago and loved it! Gave me such a greater appreciation for Beatrix Potter and her great books!
Then I found this series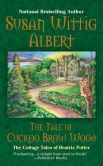 Which is The Cottage Tales of Beatrix Potter by Susan Wittig Albert.
They are fiction, but loosely based on Beatrix Potter's life beginning where the movie Miss Potter ends. There are 8 in the series so far, and I am on number 4. Lots of fun--a light mystery where animals can talk too, because all the animals in Miss Potter's books talk, right? Check them out after you watch the movie Miss Potter.
What British things are you loving right now???